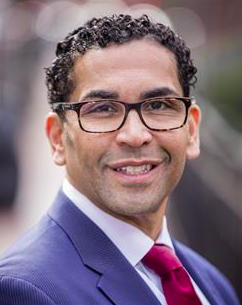 Current Role & School Snapshot:
Oscar Santos has served as Head of School / President at Cathedral High School in Boston since July 2013.21 Cathedral High School is a private, co-educational Catholic school serving approximately 280 students in grades 7 – 12. In SY18, the cost to educate a CHS student was $14,000, split evenly between philanthropy-based assistance and student tuition. 22The school boasts an on-time graduation rate of 100% as well as a college-acceptance rate of 100%.23
Previous Work Experience:
Santos began his career in education as a BPS teacher in 1996 and worked in the classroom until 2003. In 2004, he became Headmaster of Boston International High School, a role he held until 2010. From 2010 until 2013, he served as Superintendent of Randolph Public Schools, a district enrolling 2,737 students.24 15% of RPS's students are Hispanic (compared to 42% of BPS students), and 50% are African American (compared to 34% of BPS students). 37% of RPS students speak a language other than English at home (compared to 45% of BPS students), and 15% are English Language Learners (compared to 32% of BPS students). Prior to leaving Randolph Public Schools in 2013, Santos acknowledged that he did not intend to seek a renewal of his contract because it had become "clear that [his] priorities [were] not aligned with the priorities of the majority of the Randolph School Committee."25 Elaborating, he said that although he loved the work, he was not able to work well with the town's school committee.
Of Note:
Classroom Technology. At the helm of Cathedral High School, Santos led the completion of the school's Applied Learning Center to allow students to have hands-on experiences with robotics and 3D printers. Santos noted, "[A]s the world changes, students need opportunities to have applied learning experiences."26

Experiential Learning. In 2018, Santos announced that Cathedral High School would partner with Northeastern University to develop Cathedral teachers into "entrepreneurial-based educators" able to work with an experiential learning model and offer "students more choice and voice during project-based learning."27

Awards & Achievements:
As a classroom teacher at BPS's English High School in 2002, Santos was named Boston Teacher of the Year.28

While serving as Superintendent of Randolph Public Schools in 2011, Santos was honored with the Governor's Award for Extraordinary Latino Leadership.29
21"Oscar Santos," LinkedIn.
22"Tuition And Financial Aid," Cathedral High School.
23"Why Cathedral," Cathedral High School.
24 "Randolph – Enrollment Data," Massachusetts Department Of Elementary & Secondary Education.
25 "Randolph's Superintendent To Leave In June," Boston Globe, November 22, 2012.
26 "Celebrate Catholic Schools Week 2019," The North End Regional Review, January 24, 2019.
27 "Cathedral High, Northeastern Partner On Experiential Learning Programs," The Boston Pilot, June 1, 2018.
28 "Who Is The Compact?" Boston Compact.
29"Around The Archdiocese," The Boston Pilot, June 7, 2013.